Access additional resources at any time!
The BOOST offer is a token overflow offer also known as "burst licensing". It is a quick and easy solution allowing users to access additional resources at any time on a per-use basis.
Token BOOST
Do you need to run a calculation with more tokens than are currently available in your license pool? Trigger the "Token BOOST" and extra tokens will be added for the duration of the simulation.

"I have an urgent project and the 10 tokens of my license are already in use. To meet to this one-off need for an increase in computing capacity, I want to run my calculations on 12 cores.
I select the Token BOOST."
Feature BOOST
Do you need features that are not included in your license? Trigger the "Feature BOOST" and widen the scope of the processes that you can simulate for the duration of your calculation.

I have a COLDFORM® license and I need to simulate a tempering operation on my parts. I select the Feature BOOST.

I have a THERCAST® Foundry & Ingot Casting ESSENTIAL license. I wish to perform a thermo-mechanical simulation to improve precision. I select the Feature BOOST.
You can also combine a Token BOOST with a Feature BOOST!
What are the benefits for you?
Accelerate innovation by taking advantage of the Transvalor software suite and perform simulations that are not included in your standard license
Be faster or more precise by increasing your computing power during peak loads or for a large project
Optimize the use of your infrastructure by freely increasing the utilization rate of your servers
Control your consumption in real time thanks to the dedicated web portal
Optimize your budgets with invoicing as close as possible to your true needs in terms of both tokens and features
Enhance your flexibility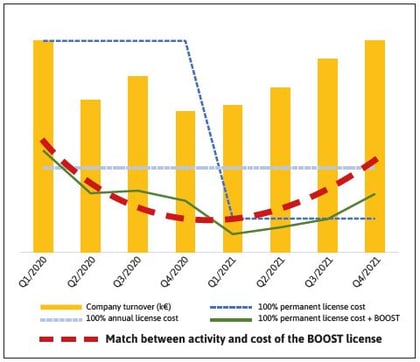 Adapt your investment according to variations in income within your organization. Directly related to the activity, find a better balance between your operating expenses (OPEX) or capital expenses (CAPEX) and thus adjust your software expenses according to your financial policy.
Increase your productivity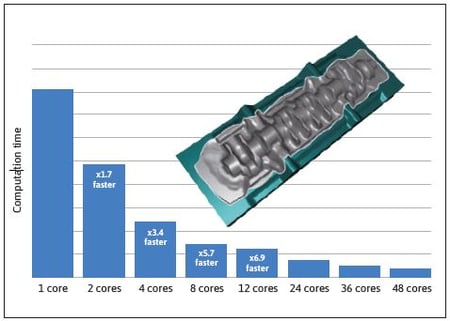 Thanks to the remarkable parallel efficiency of our software, the cost of additional tokens is offset by much shorter computation times. With the Token BOOST, the cost of "1 additional token for 10 hours" is approximately the same as of "10 additional tokens for 1 hour".
How works the BOOST offer

When the calculation starts, the application queries the local license server. If additional tokens (in number or in features) are necessary, then the global license server is directly queried and provides the missing tokens during the calculation period.

A web portal to master your consumption
The web portal gives you detailed information on consumption by user and by product. The administrator can set a maximum threshold that should not be exceeded. He/she can also designate users authorized to benefit from the service.
Pricing of the BOOST Licensing
The user is billed per time spent depending on the number of tokens and/or additional features chosen
The price is set in accordance with the terms of the BOOST license agreement and takes into account the license and the number of tokens already in place in your organization
Only the calculation time is invoiced; setup and results analysis times will not be invoiced
Our sales department is at your disposal to provide any additional information
Prerequisites of the offer
The offer is available for products from the version FORGE® NT 3.2, SIMHEAT® NxT 1.2, COLDFORM® NxT 2.2, THERCAST® NxT 2.1.
Install LM-X License Manager v4.9.4b
Have an Internet access to obtain additional tokens
The BOOST Licensing offer is only available at the present time in the countries listed hereafter : France, Germany, Austria, Switzerland, Spain, Portugal, Benelux, UK, Ireland, Hungary, Romania, Slovenia, Croatia, Ukraine, Denmark, Norway, Sweden, Finland, Estonia, Latvia, Lithuania, Greece, Egypt, Israel, Saudi Arabia , Oman, United Arab Emirates, Bharain, Qatar, South Africa, Australia. Other geographical regions will be progressively covered during year 2021.