Developed to improve quality and interoperability of CAD data
The software CADdoctor TRANSVALOR Edition is an industry-proven application and designed specifically for Transvalor users to improve CAD data quality and interoperability.
CADdoctor TRANSVALOR Edition will feature data export directly to Transvalor solutions that will guarantee:
First-time success in reading optimized 3D model into FORGE®, COLDFORM®, THERCAST®, REM3D®, and other Transvalor products
Accurate results in forging, forming, casting, and injection molding simulations in Transvalor solutions
If you want to learn more about CADdoctor and get a quote,
please contact us :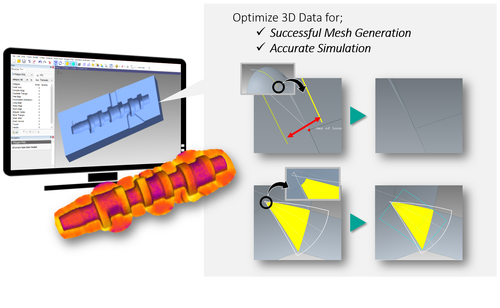 Other Key Features of CADdoctor TRANSVALOR Edition:
Multi-CAD Import
Translate 3D models in multi CAD formats into proprietary format for Transvalor solutions.
Supported formats: CATIA V5, Creo Parametric, NX, Parasolid, JT, IGES, STEP, STL, OBJ, VRML, Nastran, and Point Cloud.
Geometry Healing
Check and repair the geometry / topology problems to prevent failures in data import, mesh generation in CAE tools etc.
Geometry Simplification
Recognize and remove geometry features such as fillets, chamfers, holes, bosses and ribs, and steps to simplify the geometry for effective CAE analysis.
Solid Envelope
Create 3D models without interior parts (outline only) by deleting those interior parts or integrating the entire assembly model into a single solid model.
Polygon Healing
Check and repair polygon data.
With CADdoctor TRANSVALOR edition, Manufacturing process analysis turn into more effective and reliable environment with the following benefits:
Manage Native CAD Format to Provide Reliable Geometries
End-user avoids every situation of loss of geometry due to transfer from native CAD format to standard exchange format such as STEP. Typically, forging designers will now import their tooling geometries in native CAD files and convert them into Transvalor format prior to perform their FORGE® simulation.
Shorten the Workflow for Data Set-up
The auto-check and auto-heal function bring comfort in the sense that most defects & geometrical errors will be automatically treated saving lots of preparation work. In forging design, common problematic situations (e.g. unstitched surfaces, short edges, etc.) are likely to be encountered in transition areas near the flash entrance or along the parting line with small fillet radii. Hence, designers will be no longer slowed down by tedious surface meshing correction.
Improve Mesh Quality for Faster & Greater Simulation Results
CAD models often show tiny geometrical details which can result in heavy CAE models with very fine local mesh. The geometry simplification capability of CADdoctor TRANSVALOR Edition streamlines the model and drastically reduces the resulting number of nodes. It is noticeable on casting or injection molding application that an average reduction of 30% for the total number of surface nodes will result in a computation time nearly divided by 3. This astonishing feature is the perfect companion to the unique self-adaptive AAA remeshing technique that is incorporated into TRANSVALOR solvers.