Simulation of fastening processes with FORGE®
Fastening processes are very popular in various industries (automotive, aerospace) to assemble sheets made of different materials and with different thickness.
FORGE® addresses multiple fastening processes: clinching, riveting, crimping, screw fastening. It is used to improve and optimize the assemble technique. Like with forming processes, FORGE® avoids numerous and costly physical tryouts.
The FORGE® software makes it possible to simulate assemblies and the example presented here above corresponds to a case of riveting with self-pierce rivet. The two sheets are attached by the rivet that goes through them. The simulation makes it possible to check the effectiveness of the riveting and to test its resistance in use.

Simulation of riveting of the two sheets with self-pierce rivet
Competitive features
Multi-body calculation including all the components with an appropriate contact technique
Adapted contact techniques
Residual stresses, elastic, elasto-plastic behavior as well as damage behavior of all the components are considered in the fastening simulation.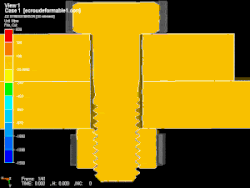 3D simulation of an assembly. Stress distribution along Z direction is represented.