The staple event for medtech
The 8th edition of Medi'nov, the MedTech trade fair has been organized on September 9-10, 2020 at the Matmut Stadium in Lyon, France.
This exhibition mainly targets the R&D, technical and purchasing functions of medical equipment and devices manufacturers of all types: implants, prostheses and orthoses, surgical and diagnostic instruments, therapeutic equipment, dental and optics equipment, etc. For its 7th edition in 2019, the show gathered 655 participants.
Discover our solutions for the medical industry:
The exhibition area brings together a hundred exhibitors and targeted networking sessions are organized to promote the development of scientific and technological partnerships.
Medi'nov also organizes technological conferences to allow stakeholders to share with the audience market developments and latest technological innovations. Stéphane Andrietti, Marketing and Communication Director at Transvalor, gave a conference on:
'Recent contributions of numerical simulation for medical devices manufacturing and for a variety of biomedical applications'
Abstract in French >
Our team has also held a booth to give more details on our solutions.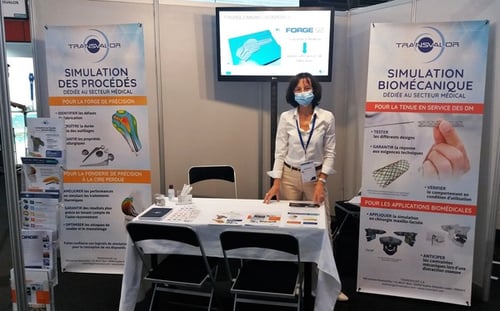 What is the interest of simulation for the design of medical devices?
3D modeling allows medical devices manufacturers to guarantee the precision, safety and quality of their parts. It also allows players in the industrial sector to innovate and thus be more competitive in their market.
Many types of orthopedic prostheses (hip, shins, ankle, etc.), surgical implants (stents, etc.) or other medical equipment (syringes, etc.) can benefit from the simulation.
Our FORGE® and THERCAST® simulation software precisely simulate all stages of the forging and foundry casting of metal components.

A tool also suitable for biomedical
Numerical simulation not only contributes to the development of medical devices but also to biomedical applications. This is what Yannick Tillier, Biomechanics Manager in Mechanical and Multiphysics Modeling at CEMEF, demonstrated during our Transvalor International Simulation Days 2019.

In the video, click on this icon to activate the subtitles in English or French.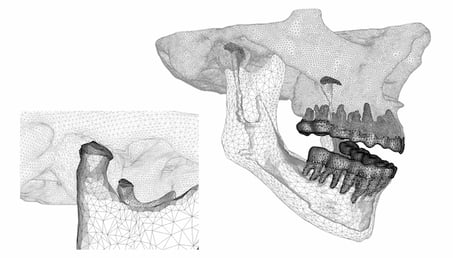 Simulation made with FORGE® software by Y. Tillier, CEMEF