The event has been cancelled
The annual Cold Forming Days is an unmissable event organized every year in February under the direction of Prof. Dr. Groche. Cold forming experts gather at this two-day conference to learn about new trends and expand their professional network.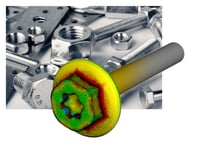 For the edition of February 23 - 24, 2022, Transvalor will present a conference with ABC Umformtechnik, to demonstrate that simulation with COLDFORM® software helps to save time and money.
Strategies for FEM Simulation of high-performance coldforming tools shown by a case study of an hexagonal torque-application geometry
Importance of FEM simulation to understand material flow and prevent failures in the manufacturing process

Methodology description from defect detection, cause identification and process optimisation

Product case study : high-performance forming tool for special application bolt with hexagonal torque-application geometry

Simulation of a multiple stages cold forming sequence

Review of benefits including increased product quality, increased tool lifetime, costs reduction and higher machine performance
Speakers:
Dipl. Ing. (FH) Oliver Schwesinger (Northern Europe Sales Manager, Transvalor S.A, France)

M.Eng. Andreas Bertog (Responsible for Technical Projects Development & Simulation; Schraubfachingenieur (DSV)® , ABC Umformtechnik GmbH & Co. KG, Germany)

In addition, our team will welcome you to our exhibition booth to discuss your possible issues and offer solutions.
Our Product Manager Dr. Nadine El Kosseifi and our Sales Manager, Mr. Oliver Schwesinger, will answer your questions.