Optimize your processes of heat treatment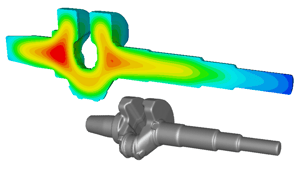 Numerical simulation is a powerful tool for industrialists wishing to improve their heat treatment processes, to be predictive on in-use properties of their final parts and on the equipment and matrices used.
Simulation provides comprehensive information about temperature gradient from surface to core and also the location of areas where phase transformations occur, from heating to cooling.
Surface heat treatment processes, steel grade treatment but also aluminum alloy treatment can be simulated with that kind of software.
That is the case with our SIMHEAT® software, which makes it possible to model many processes such as induction hardening, quenching, carburizing, nitriding, austenitization, annealing, tempering, controlled cooling, and for aluminum alloys solutionizing and artificial ageing.