Become predictive of your cold forming processes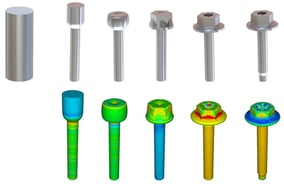 From the most traditional to the most demanding processes, the numerical simulation allows you to produce high added value forged components. Some of the most common cold forged parts include: shafts, hollow shafts, nails, screws, bolts, nuts, rivets, washers and fasteners.
With a simulation software, you become predictive of many things that influence your costs and the quality of your parts :
Anticipate the presence of defects: position, evolution, depth of folds...
Prevent deformation, wear and tear and tool breakage at any stage of the process
Select the adequate forging equipment according to the effort of forging, consumed energies...
Assure the health of your parts with good fibering
Visualize critical zones subject to damage
Follow cutting surfaces, segregated areas and suction defects
These criteria can be simulated with our simulation software COLDFORM® for the numerous processes including closed die forming, extrusion, cutting, punching, rolling, heat treatment, machining, and many others. It is suitable for any type of metallic alloy.