Technical and numerical innovations
Fully automated adaptive anisotropic meshing:
In order to improve digital precision and to reduce computation times, the software is capable of providing a precise description of the interfaces (grain boundaries) while using an appropriate number of elements thanks to a fully automated anisotropic meshing and remeshing adaptation technology.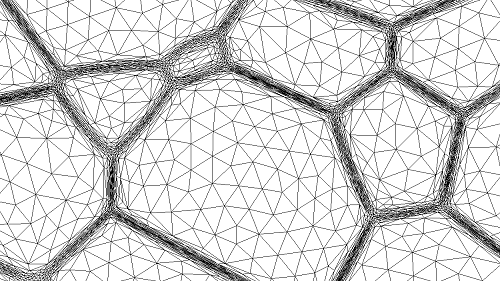 Automatic mesh refinement in the direction normal to the grain boundaries (anisotropic meshing)
Fully parallelized calculations:
Like all other TRANSVALOR software, DIGIMU® is built around an optimized high-performance architecture capable of running on one or more cores in order to guarantee maximum processing power.
Some features have also been recently integrated into DIGIMU®:
Polycrystal deformation
Dynamic (DRX), post dynamic (PDRX) and static (SRX) recrystallization
3D simulation
Recovery of the thermomechanical paths of the simulation
User routines to define your own hardening, restoration or nucleation laws
Coupling with FORGE® software: using FORGE® sensors to feed DIGIMU® simulations and analyze the evolution of the microstructure in the critical points.