Increase of the tools service life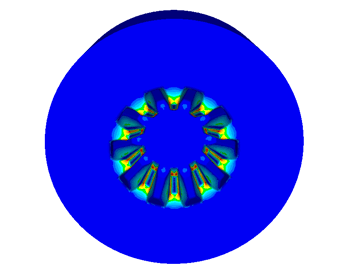 The tools of cold forming undergo strong mechanical and tribological stresses during their life cycle. These can lead in certains cases of damaged premature tools. The tools represent an important part of the manufacturing cost of a part; thus it is essential to anticipate well these problems during the designs.
COLDFORM® allows you to analyze mechanical die strength in order to extend their service life. The software can compute stress distribution within the die, along with deformations, wear, temperatures and damage at any time during the process. COLDFORM® can carry out rapid analyzes which consist in applying stresses obtained during the forming process computation, to the tools. Moreover, COLDFORM® is capable of performing coupled part/tool computations, giving extremely precise results.
Thanks to the functionalities dedicated to pre-stressed dies, it is possible to accurately determine the value of the necessary pre-stressing of the interference fit of the tools. By playing on the shape, the number of rings and materials that it composes, COLDFORM® allows you to find the best design for your tools and to guarantee the best performance and durability.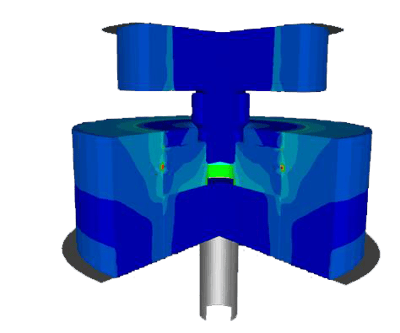 Prediction of Von Mises stresses of dies during the metal forming.
This calculation takes into account the pre-stressed insert.