Modeling ingot casting process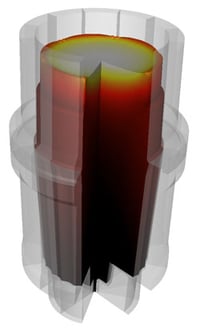 Simulation helps improve your competitiveness and optimize overall process efficiency. Indeed, you minimize the costs associated with material losses in the high and low zones of the ingots.
You can save prototyping times: THERCAST® models dynamic air gaps associated with solidification shrinkage.
Detect defects such as shrinkage, distribution of inclusions, porosities, cracks and hot tearings, allows you to improve the quality of your ingots.
Suitable for a wide range of ingot cross-sections or masses, THERCAST® simulates ingot bottom or top pouring. The software incorporates a casting filter module and considers all technological factors such as the presence of refractory materials or coating.
THERCAST® also models turbulent flows and manages all interactions between the metal and the wall of the ingot mold, the slag and the mold flux.
For bottom pouring, THERCAST® validates the geometry and dimensions of the feeding system.
THERCAST® takes into account the elements surrounding the process such as exothermic powder and highlights its impact on the slowing of solidification at the top of the ingot.
Thanks to part- and mold-coupled thermo-mechanical resolution, the software can also anticipate, mold deformation and breakage.