A 100% predictive numerical tool
In markets where the safety of welded assemblies is essential, analysis with TRANSWELD® offers a global and innovative solution to anticipate welding defects.
Our simulation software integrates multi-physical models to simulate the real behavior of the metal in the liquid/mushy state to perform a complete analysis of the material evolution.
TRANSWELD® also makes it possible to study the microstructure of the solid state assembly. Then, you ensure the conformity of your welded part without going through the prototyping stage.
Our software is 100% predictive. It allows you to observe your welding processes numerically by applying real conditions. For example, you can visualize the heat source movement during the simulation of laser welding or arc welding.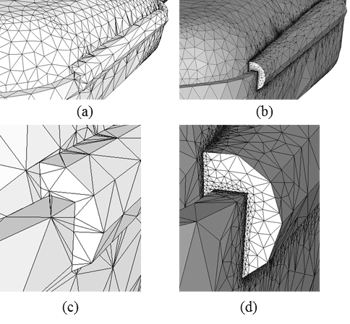 Illustration of automatic remeshing: the initial mesh (a,c) of the part is going to be refined in the area where the filler metal will be fed (b,d)