Simulation is particularly suitable for simulating high-precision forging (near-net) for designing orthopedic implants (hips, knees, shoulders, ankles, dental implants, etc.) and ancillaries that guarantee high-level physical and mechanical properties.
Moreover, you have a high performance predictive tool for simulating the entire forging range according to different processes: closed die forging, stamping, machining, heat treatment…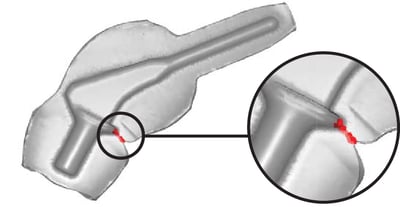 Forging of a femoral stem with prediction of cold-shut formation - FORGE® simulation
Identify the defects
For the stamping of metal parts, the simulation makes it possible to detect all of the major defects.
The user can directly locate the underfill areas and easily analyze the origin of cold-shuts.
Simulation can also be used for biomedical applications and makes it possible to anticipate mechanical stresses during bone distractions.