Be predictive on all your deformation processes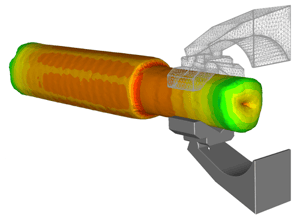 From the most traditional to the most particular processes, numerical simulation allows you to produce forged components with high added value.
With a simulation software, you become more predictive on various elements that get influence on your costs and the quality of your parts:
Anticipate the presence of defects: position, evolution, deepness of folds...
Prevent deformations, wear and tool breakage whatever the stage of your process.
Select the appropriate forging equipment according to the forging loads, energies consumed...
Ensure part health with good fibering
Visualize areas subject to damage
Track sheared faces, segregated areas and flow-through defects
All these elements concern our FORGE® simulation software and are applicable for a large number of forging processes (closed-die forging, open-die forging, flat and long products rolling, ring rolling, shape rolling, cross-wedge rolling, electrical upsetting, shearing, sheet metal forming, cold forming, etc.).
It is suitable for any kind of metallic alloy.