EPHJ, INTERNATIONAL TRADE SHOW DEDICATED FO HIGH PRECISION
This year again, Transvalor took part in the EPHJ, the world's largest high precision trade show held in Geneva, Switzerland.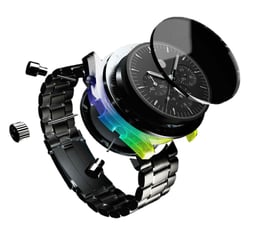 The
EPHJ
gathers, each year, more than 800 exhibitors and 20 000 watchmaking and jewelry professionals for 4 days of meetings and conferences.
Innovations, trends, materials, processes, tools, many themes related to design and manufacturing are covered.
Christine Corsini, Transvalor Sales Manager and Max Binagot, Technical Product Manager presented Transvalor's solutions for the watch industry.
TRANSVALOR SOLUTIONS FOR THE WATCHMAKING INDUSTRY
COLDFORM® is a simulation software for cold forming processes that allows you to control your stamping, improve the quality of your products, optimize your costs and increase your know-how. COLDFORM® is a module of FORGE® software, dedicated to the simulation of hot and cold forming processes. All its functionalities are therefore integrated in FORGE®.


DIGIMU® models microstructural evolutions such as recrystallization phenomena occurring during metal forming processes, grain growth, polycrystal deformation, etc.


THERCAST® simulates the casting of precious metals (gravity casting processes, lost wax casting, etc.) and allows to anticipate the appearance of manufacturing defects and the solidification time.


Case study Boucledor
COLDFORM® already proved its expertise to many companies of the fine watchmaking and jewelry industries, such as Boucledor, from Swatch Group. Boucledor engineers, that design and produce buckles and clasps, use our COLDFORM® software to validate their stamping processes.