Today, one of our main concerns is the ergonomics of our software. Mindful of your needs and eager to meet your expectations, we are continuously improving and developing new functionnalities to offer you a more pleasant user experience thanks to an even more efficient and customizable working environment.
In the latest THERCAST® NxT 2.1 release, we have introduced new tools that will be soon fundamental !
Gain efficiency with the contextual menu
With the new THERCAST® graphical interface, the user does not need to leave the working environment to select display options, perform actions or view fields on a part. Many functions are available directly from any configuration thanks to the contextual menu.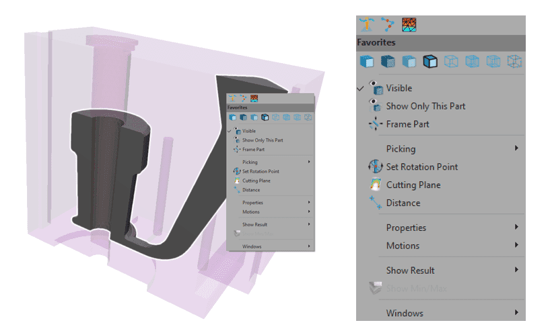 This menu offers the possibility to define more quickly the settings you are looking for. Depending on the selected object and the SETUP or ANALYSIS mode you are in, the menu automatically adapts and offers you the most appropriate actions.
It is also possible to configure the mouse and keyboard settings to quickly access to personalized actions. From the "Settings" space, the new interface allows to define the contextual menu "Favorites", mouse actions and its owns keyboard shortcuts.
Drag and Drop a file in the interface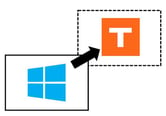 THERCAST® NxT 2.1 makes it easier to import files in the interface with the new "Drag and Drop" feature.
To start an import, all you have to do is select the geometries on the disk (in usually supported formats) and drop them on the associated objects box. A "link" icon indicates the area on which action is possible.
Likewise, the new version allows to upload a *.tpf file to open a project, a *.don to view results or a *.tsf to add a simulation to a project.
In order to replace an existing geometry with that of your choice, a simple "drag/drop" is sufficient. By selecting the geometry and dropping it on the part of your choice, the old part is automatically replaced by the new one.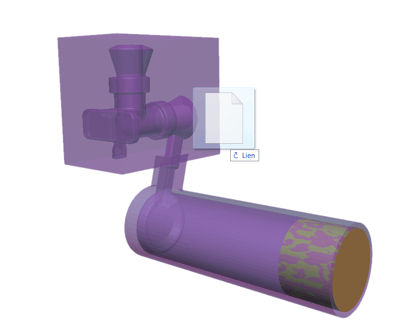 Repair and improve the meshes quality
A good mesh quality is necessary to a smooth running computation and has an important impact on the results accuracy. To facilitate mesh repair, THERCAST® can now create a triangle from three selected nodes. They can be selected or the coordinates can be entered manually in the local repair setup. Thanks to this tool, the meshing can be repaired by filling the holes.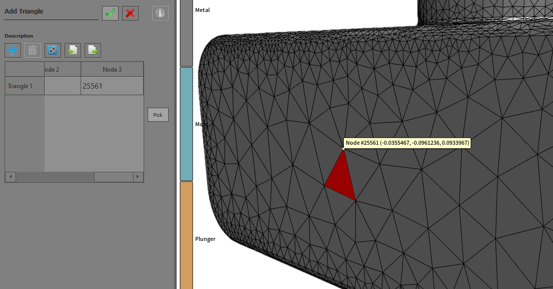 Do you need more information on THERCAST®?