The ergonomics of our software has become one of our main concerns. Mindful of your needs and expectations, we are continuously improving and developing new features to offer you a more efficient and more customizable working environment.
In the lastest release FORGE® NxT 3.1, we have introduced new tools which you will soon not be able to do withou.
Access all the actions in a single click
Imagine no longer having to leave the workspace to select a display option, perform an action, or display a field on a part. Imagine functions directly accessible from any configuration: we made it for you !
By implementing this contextual menu, we offer you the possibility to define the parameters you are looking for more quickly. Depending on the selected object and the SETUP or ANALYSIS mode you are in, the menu automatically adapts and offers you the most appropriate actions.
Increase your productivity even more by customizing your right click. A "Favortites" space has been designed to accommodate almost all the functions available in FORGE®.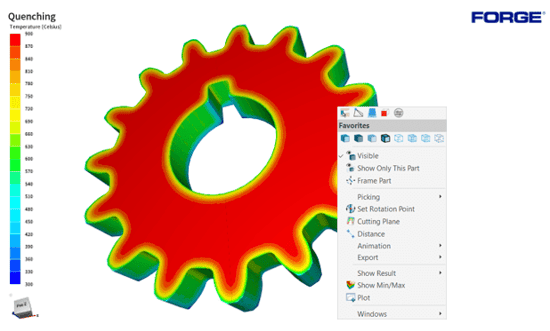 Drag & Drop a file in the interface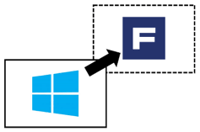 FORGE® NxT 3.1 now supports the Drag and Drop function and
allows you to load files more easily into the interface.
Select your geometries on your disk, in usually supported formats,
and drop them on the associated object labels to import them. A
"Link" icon indicates a possible drop target Similarly, you can drop a *.tpf file to open a project, a *.don file to view results, or a *.tsf file to add a simulation to your project.
Furthermore, you can replace an existing geometry by the required one by simply drag-and-dropping it. Select the geometry file on your disk and drop it onto the existing object. The part is then automatically replaced.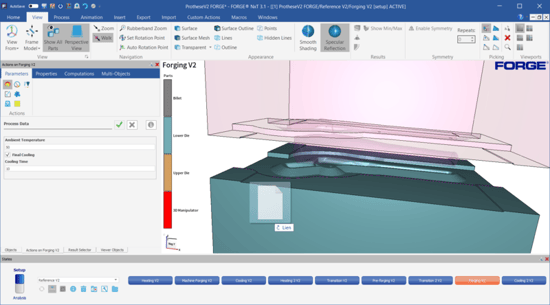 Increase your efficency and speed
New keyboard shortcuts and a quick access menu have been developed to speed up your workflow. The standard functions are now accessible thanks to new key combinations which will soon be customizable.
Ctrl+O: Open an existing project
Ctrl+N: Start a new simulation project
Ctrl+S: Save your work
Ctrl+Z: Undo the last operations
Ctrl+W: Close the current project
Ctrl+Q: Exit the application
Ctrl+Space: Switch between setup and result analysis
Ctrl+E: Perform or commit an action
Ctrl+ → / Ctrl+ ←: Switch from one simulation to another
Ctrl+M: Preview the kinematics/Play an animation
…and many more.
Do you need more details about FORGE® ?