Simulation of ring rolling with FORGE®
Ring rolling is used to produce rings, for example for the aerospace industry (engine components) and the energy industry (windmill parts). The automotive industry also employs ring rolling to manufacture bearings, most often at ambient temperature.
FORGE® allows the precise simulation of ring rolling of conventional and shaped rings.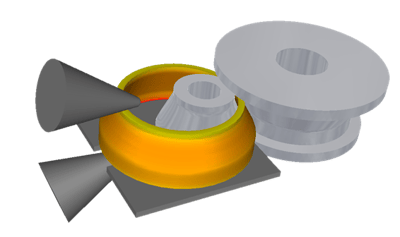 Radial-axial circular rolling simulation with FORGE® software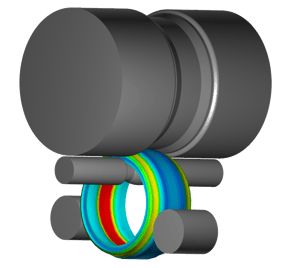 Vertical circular rolling simulation with FORGE®
benefits of Predictive Simulation
FORGE® allows an accurate prediction of:
Final shape of the ring and correct filling for shaped rings,
Flaws (for example fish tail),
Temperature distribution and required reheat,
Microstructure,
Efforts and torques
Ring rolling of a waspaloy shaped ring for the aerospace industry, with microstructure prediction. Average diameter (µm) is represented on the ring itself and plotted on 3 sensors.
Competitive features of FORGE® for ring rolling
Accurate temperature and state variable calculation,
High parallel scalability for optimal CPU time speed-up,
Dedicated technic for ring rolling dies representation to increase accuracy and reduce computation time,
Specific mechanical approach Arbitrary Lagrangian Eulerian (ALE) method
Microstructure prediction with available data for aerospace and energy industry materials,
Real kinematic applied for refined process simulation and centering rolls considered,
Ring rolling of a low alloyed steel shaped ring used as a bearing in a windmill. This simulation was carried out with the UPEM module which, in that case, was fed by Muraro, a press and ring rolling mills producer and a Transvalor customer.
Case study - validate a ring rolling process with simulation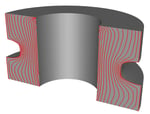 In order to supply two hundred A105 steel shaped rings to a new customer, the Italian company FELB Srl used FORGE® software to achieve several simulations to confirm the technical feasibility of project.