The benefits of simulation for steel manufacturing
Metallurgical process simulation and modeling are now used all over the world and by all types of industrial sectors. They enable manufacturers to optimize their processes in order to reduce their costs while maintaining the quality of their products.
Thanks to powerful computation means, simulation software allow to understand metallurgical and thermomechanical behaviors of parts during metal forming, but also once the part is produced and in use condition.
Many types of material forming simulation software exist on the market. Transvalor's offer is constituted of:
Conference on steelmaking processes simulation
Transvalor is taking part in the 8th edition of STEELSIM, an international conference that focuses on the modeling and simulation of metallurgical processes for steel manufacturing.
STEELSIM 2019 was held August 13-15, 2019 in Toronto, Canada, and brought together an audience of steelmakers, researchers, engineers and academics from around the world.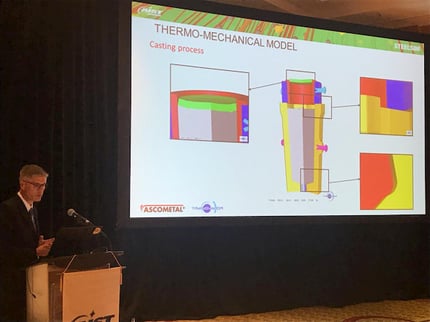 Dr. Olivier Jaouen, THERCAST® Product Manager, joined Nicolas Poulain, Technical Director of our American subsidiary TRANSVALOR AMERICAS, to represent our different metallurgical process simulation software.
Our subsidiary TRANSVALOR AMERICAS sells our software and provides technical support to our users based in North and South America.
Our team held three conferences on the following topics:
"Application of FEM simulation to roll pass design and roll stress analysis"
Read the abstract
"Application of a Mixed Fluid/Structure Model for Ingot Casting Simulation and Macro-segregation Prediction"
Read the abstract
"Full Field Approach for Modelling of Microstructural Evolutions during Forming Processes"
Read the abstract