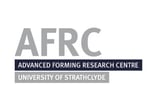 AFRC
"Thank you for the training, it was very useful because it was tailored exactly for our needs, great balance between talks and practical exercises, the people involved with the training were very well prepared, knowledgeable and answered all questions guiding us very smoothly through tutorials and exercises, their colleagues at the headquarters assisted the training when needed providing extra information and details extremely fast and in fact during the session, the responsiveness and interaction between Transvalor people left us with a very positive impression about the company and its people, this was a very good and rewarding experience, highly recommended"
Ioannis VIOLATOS, Materials KE Fellow - Materials Modelling Theme Lead & Residual Stress Theme Lead, AFRC

FPD Company, USA
FPD Company choosing to collaborate with Transvalor was a game-changer for our medical and aerospace manufacturing business specializing in titanium components and assemblies. Transvalor's solutions (FORGE® in particular) tackled pressing issues in our forging processes, such as material flow, temperature consistency, defects, and flash hits, all vital considering titanium's high costs.
The implementation of Transvalor's solutions revolutionized our workflow by eliminating iterations in forging tooling design, saving costs that historically reached $10,000 per iteration.
I wholeheartedly recommend Transvalor to industry peers due to their virtual simulation capabilities that prevent iterations and provide predictive insights.
FPD's journey with Transvalor Americas Corp has been smooth, with direct support from their developers and providing excellent training to their users. Over 20 years, FPD's partnership with Transvalor Americas Corp has been integral to our sustained success in our closed die precision forging, highly automated machining, and assembly capabilities.
Rodney Brooks, Engineering Manager, FPD Company, USA

LISI AEROSPACE, France
Through its activities, LISI has in its factories many forming processes: forging, stamping, spinning, extrusion and other hot forming processes. And we simulate all of these processes with FORGE® software. FORGE® allows us to perfect and accelerate our development of manufacturing sequences. We are also working with the FORGE® solution in a perhaps less expected area, like designing our assembly solutions since we will also have great deformation with crimping, riveting. So we have been working with Transvalor and FORGE® for more than ten years. Both with the Customer Service but also through partnerships to improve and evolve the software solution. In summary, I would say that FORGE® allows us to accelerate our developments and helps us in choosing the most relevant technical solutions.
Antoine Villet, Simulation and Materials Manager, LISI Aerospace, France
---

Tecnalia, Spain
FORGE® is a very powerful metal forming simulation software. It has allowed us to develop new forming processes for many years with a high level of confidence and reliability.
The continuous improvement of its capacities on many fields, as heat treatment, metallurgy or material data, gives us the possibility to look deeply into the study of the process parameters that affect the formed parts properties.
Using FORGE® is a must in our daily work, as it plays a key role when designing forming processes.
Iñaki Perez Bilbao, Tecnalia, Spain
---

NTN-SNR Roulements, France
To optimize our processes we use Transvalor products and in particular, we use FORGE® software. It is used to optimize hot and cold forging processes. This is the most classic, most historic application for us. You should know that it's been 30 years that we use this software. And more recently it has been used for heat treatment applications. Particularly for induction heat treatment which is a rather complex process. It has become an essential stage in the development of our processes. It allows us to avoid costly, experimental iterations. Instead we use the simulation to design our tools and try as much as possible to have a good and optimized tool at the first try.
Victor Lejay, Materials Engineer, NTN-SNR Roulements, France
---

Technical university of DORTMUND, Germany
We use FORGE® at our Institute for research on the topic of adiabatic blanking of high-strength steels. This process is a complicated process at high velocities and high strain rates and our aim is to investigate this process and understand the fundamentals, so that industrial users can make profit out of that. So we need a program which has the ability to make thermal mechanical modeling of the material behavior. We need a program which can model the damage at elevated temperatures and elevated speeds. We need a program which is fast which can remesh because we have strain localization and we need a good support for the usage of the program.
Erman Tekkaya, Head of the Institute of Metal Forming Technology and Lightweigth Structures, TU Dortmund, Germany
---

Otto FUCHS KG, Germany
FORGE® meets the growing demand for quality and development time since all our processes are modeled and optimized through simulation before manufacturing. The material flow of our non-iron metals like Titanium and Aluminum can easily be tracked and tools optimized to reach better results.
Furthermore, the great flexibility of the software allows advanced self-programming for fast preprocessing procedures and new processes ideas are easily implemented into the software, giving Otto Fuchs a strategic advantage in the aeronautical and automobile fields.
Mauricio Santaella, Otto Fuchs KG, Germany
---

Groupe Lépine, France
Our main use of FORGE® is the industrialization of new hip prostheses to validate the feasibility, anticipate defects and thus save time and development costs; but also the optimization of existing processes (e.g. more homogeneous filling, reduction of material scrap). In the medium term, we hope to directly integrate FORGE® into our CAD software for automatic optimization of our tools and thus increase our reactivity.
Etienne Martin, Groupe Lépine, France
---

FELB SRL, Italy
I verified on the real case how the numerical simulation developed with FORGE® was helpful to support the technical decisions, early in the proposal estimation. Thanks to FORGE®, to mine and Ing. Fioletti's knowledge, and to the EnginSoft's support, we were able to offer a superior quality part, with a considerably increase on efficiency.
I rediscovered in FORGE® what I did in the past with the modelling clay, trying to understand the movement of the material. FORGE® allows me to see in a very detailed way what happens to the material and the causes of specific defects, suggesting the best way to solve them.
From a CEO point of view, I'm even now noticing interesting returns: we can now expand our business, in terms of batch size and/or complexity of the parts. Advantages on the efficiency on my production processes could be the key to establishing us on these new markets.
Luigi Catalini, Felb, Italy
---

Marle, France
FORGE® software helps us develop products with complex geometry (by observing the material flow) and in our forging trial methodology. We also use simulation to optimize the geometry of the billets and thus improve the forging of the implants by looking for the appearance of defects such as underfilling or folding.
Samuel Frenette, Marle, France
---

Ohio State University, USA
The analysis carried out with FORGE® to model the evolution of defects in aeroengine disk forging would not have yielded results this close to experimental values on many other metal forging software products. FORGE® has a unique multi-body approach to modeling such complicated phenomena which enhances the simulation capabilities of processes.
Rajiv Shivpuri, Ohio State University, USA
---

FAURECIA AUTOMOTIVE SEATING, France
What I appreciate about these Transvalor products (FORGE® and TRANSWELD®), it's the ability to be able to chain the processes one after the other in a very simple way. Also the fact that these software are made in order that process engineers can focus on their process parameters rather than on numerical parameters. And a final aspect is also the ease of exchanges with the Transvalor teams, to discuss about expertise, on our processes and the technical support which is also very reactive.
David Even, Simulation and Process Expert, Faurecia Automotive Seating, France
---

TEI (TUSAS Engine Industries Inc.), TurKEY
We look for a virtual manufacturing software for simulation of hot forging process of aero-engine components. Main idea is to come up with the most forgeable part geometry that serves best to the design intent of the final component. After a couple of benchmarks we have chosen FORGE NXT from Transvalor, which has unequaled simulation speeds, high accuracy levels for the results and multi-core simulation capabilities.
---

Groupe SIFCOR, FRance
This software gives us information on the fill level, the temperature, the pressure within the parts, the wear resistance, the tooling lifetime, as well as the stress level required for the presses. We model all new components on the software in order to approve the routing before going on to production, and to improve our reactivity in matters of development.
The parts that are already serially produced continue to be studied in the perspective of decreasing the material input and increasing the lifetime of the tool.
Moreover, we also use FEM simulation software MSC Patran-Nastran and MSC Fatigue. These programs help us design and dimension the parts in compliance with the specification provided by our customers. By applying a static or dynamic load to the part, they give us data on the extent of the deformation, of strain and its fatigue resistance.
The know-how of the simulation engineers and the forging operators contributes to ensuring the control of these elements for comparison and optimisation, in order to validate the simulation and to apply it to manufacturing.
---

Manquillet Parizel, France
We are proud to be able to use this type of essential tool today for the good development of new products and the optimization of existing products!
---
ALCORTA FORGING GROUP
The software helps us by reducing the used material, then the tooling life based on wear and stress. At the end, the simulation helps us to explore many more options.
Mirari Elordi, Ingénieur Produit, Alcorta Forging Group, Spain
---

LEIBER GROUP
We use FORGE® from Transvalor to develop our processes in advance and also to improve existing processes. That means we look at each process error in the running series, try to model them in FORGE® to adjust. When this is done we try to modify process parameters such as temperature control or tool design to improve the process so that this error just no longer occurs in order to ensure ultimately the ongoing series quality.
Nico Rohrbach, Head of the Construction Department, Leiber Group, Germany