Simulation of thread rolling with COLDFORM®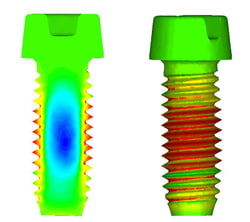 Thread rolling process is used to produce the screw thread. With this process in its portfolio, COLDFORM® is the best simulation tool for the definition of the entire production of high technology screws, from forging up to thread rolling.
COLDFORM® features a precise contact algorithm and a temporal integration scheme for updating the coordinates naturally adapted to rotation which render the simulation of cross wedge rolling highly accurate. Resorting to tricks such as forcing component rotation or blocking its displacement is unnecessary. Simulation, in this case, becomes a real predictive tool which can be used to fine-tune the process.
Predictive simulation of Thread Rolling
COLDFORM® allows an accurate prediction of:
The geometry of the component at the end of the thread rolling stage
Folds, under fillings and any defects
Loads on the chaser dies or rollers
This video shows the simulation of thread rolling of a screw, with the distribution of equivalent strain
Competitive features of COLDFORM®
Real kinematic applied on the chaser dies or rollers
Volume conservation of the screw during the simulation thanks to an appropriate rotational update scheme
Accurate prediction of underfillings of screw thread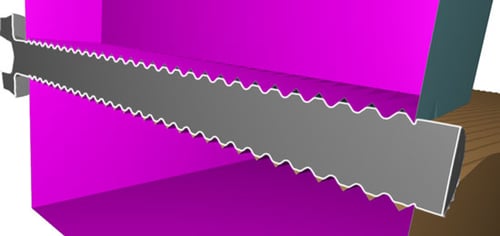 Underfilling areas can be detected with COLDFORM®