Discovery of FORGE® new ergonomic features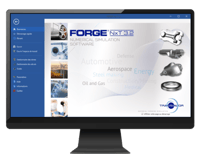 Speaker: Max BINAGOT, FORGE® Product Manager
FORGE® software is constantly evolving to meet the users needs and expectations in terms of ergonomics of the interface. New versions, FORGE® NxT 3.1 and FORGE® NxT 3.2, integrate many improvements and new features to make your daily use of the software even easier and more efficient.
These webinars and live demos will give you a deeper insight into the software.
EPISODE 1
November 26 - 02:00-02:45 PM CEST (Paris Time)
The focus will be on features and benefits to:
Explore new features to set up your projects and simulations
Customize your working environment for a quicker access to the most frequently used features
EPISODE 2
December 10 - 02:00-02:45 PM CEST (Paris Time)
The focus will be on features and benefits to:
Ease the work to correct your geometries and get adequate meshes
Access functionalities to speed-up and simplify the results analysis
Contact us for more details
Live Q&A: Participants will be able to interact with the speaker by typing their questions
Public: Engineering managers, Innovation managers, Quality managers, Metallurgists, Manufacturing engineers, Forging & Tooling designers, Process simulation engineers, Research fellows, Academics, PhD or MSc students.
Keywords: Metal forming, forging, numerical simulation, material science, mechanical engineering, software, ergonomics, data setup, resulsts analysis, meshing, customization, working environment.
Important information:
This webinar will be held in English.
After the webinar, the participants may use the chat to ask their questions.
Learn more about FORGE® software