The challenge of heat treatment for the automotive industry
On June 5-7, 2019 Transvalor participated in the ECHT (European Conference on Heat Treatment) in Bardolino, on Lake Garda (Italy).
After the great success of the first edition held in Venice in 2015, the Italian Association for Metallurgy (AIM), which brings together major companies in the metallurgical industry for more than 70 years, has once again organized this conference.
With heat treatment and surface engineering as central axes, this conference mainly focused on the automotive market. Many topics were addressed to cover all the aspects and to answer the problematics of the automotive industry concerning their manufacturing processes, their materials, etc.
Aluminium heat treatment with FORGE®
On Thursday, June 6th, our Scientific Development Engineer Stéphane Grosso (Ph.D.) gave a presentation on aluminium heat treatment simulation solutions. More precisely, he explained the simulation capabilities of our FORGE® software for aluminium quenching and artificial aging processes.
Stéphane Grosso also held a booth to give more details about our simulation software, the other heat treatment processes (austenitization, induction heating, carburizing, nitriding ...) and other hot forging processes, that can be simulated with FORGE®.
Discover FORGE® capabilities
on heat treatment :
Transvalor was also sponsor of the event.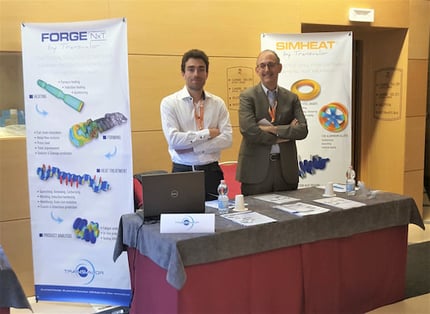 Stéphane Grosso (Development Engineer at Transvalor)
with our reseller Marcello Gabrielli (from our italian reseller ENGINSOFT)