A congress on heat treatment of steel
For the 4th time, Transvalor takes part in the ECHT, the european conference on heat treatment. After Bilbao (Spain) in 2021, the event will take place in Salzburg in Austria from September 5th to 8th, 2022.

For this edition organized by the IFHTSE (International Federation for Heat Treatment and Surface Engineering), the emphasize will be on the heat treatment of steel. From quenching to induction, carburizing and nitriding, many thematics and processes will be addressed to help manufacturers develop processes and parts that respect environmental standards.
Conference on quenching of small cylinders
Our Simulation Expert Patrice Lasne will present the results of a study carried out with our scientific partner Quaker Houghton:
Design of a Quench Ring for Proper Quenching of Small Cylinders – Modified Design
"In this paper we examine a modified quench ring for quenching small cylinders. Parts are heated by induction, and then dropped into an immersion quench ring. Previous investigation had indicated that inadequate quenching of the parts was occurring due to poor agitation in the original quench ring. A new design was created, and the agitation was modeled using CFD. The microstructure of the parts was modeled using SIMHEAT®. The new design quench ring was fabricated and implemented. A comparison of the old and new designs shows no soft spots in the new design."
Together with our Sales Manager Oliver Schwesinger, they will be available at our booth to answer all your questions.
Simulate quenching with SIMHEAT®
The SIMHEAT® simulation software integrates a model that couples thermal, mechanical and metallurgical phenomena. Thus, it considers solid-state behaviors and integrates heat transfer coefficient laws depending on the surface temperature or time.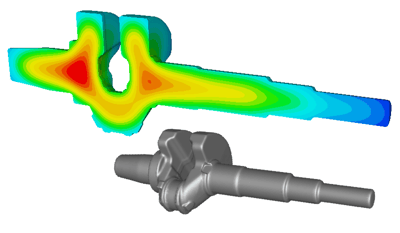 Temperature evolution during oil quenching of a single cylinder crankshaft. Courtesy of AMW.
SIMHEAT® lets you:
Predict temperature and anticipate heat transfer
Simulate phase transformations and study microstructure
Analyze hardness, distortion, stresses