Hot and cold forging simulation for fine watchmaking
The EPHJ is a professional exhibition dedicated to the watchmaking and jewelry industries. It was held at the Palexpo Geneva, Switzerland, from June 18 to 21, 2019.
Mickaël Barbelet (FORGE® and COLDFORM® Product Manager) and Christine Corsini (Sales Manager) represented Transvalor and more specifically our simulation software FORGE® (for hot forging) and COLDFORM® (for cold forging). These two solutions are particularly suited to watchmaking since they make it possible to simulate:
the entire

forming process

from the cutting stage to the finished part
the assembly of the components of mechanical movement and the elements of the strap;
the

mechanical resistance

of your case.
Learn more about simulation benefits
for this industry: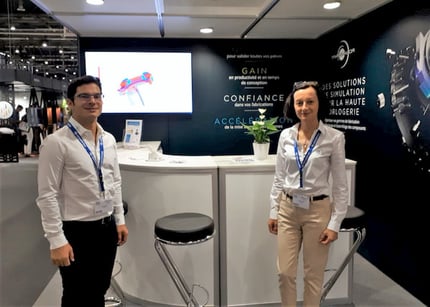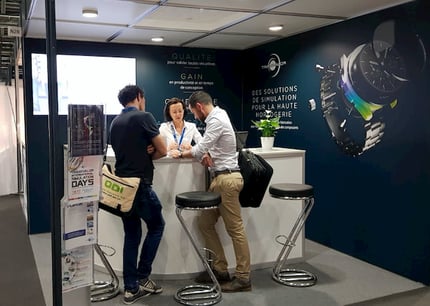 Mickaël Barbelet (Product Manager FORGE® and COLDFORM®) and Christine Corsini (Sales Manager) at EPHJ 2019.
EPHJ, for watchmarking innovation
Many watchmaking leaders (Boucledor, Swatch, ...), all expertises combined were present: CAD simulation, raw materials, tools and machines, packaging, microtechniques, and many others. Great opportunities to discuss about innovation, meet potential partners and showcase their products.
Futhermore, the EPHJ exhibition is part of the EPHJ-EPMT-SMT, a modular exhibition that promotes the know-how related to high precision fields in a qualitative atmosphere and to demonstrate synergies between watchmaking and jewelry, microtechnologies and medtech. There is no boundary between areas and visitors can walk easily from one sector to another.
Precision forging, also in the medical industry
Indeed, precision forging for complex parts forming, is used in other industries. For the medical sector, for example, Transvalor propose simulation medial devices manufacturing.