The biggest North America's Event on the forging industry
Transvalor is participating in the Forge fair on 23-25 May 2023 in Cleveland in Ohio, USA. This event is exclusively dedicated to the forging industy. The perfect fair to learn more about innovation, products and improvement on the forging activities.
TRANSVALOR, a leading software company specializing in simulation solutions for forming processes, is proud to announce its participation as a speaker. This exciting opportunity allows attendees to explore TRANSVALOR's cutting-edge software solutions and learn how they can revolutionize digital engineering in the industry.
Discover TRANSVALOR's Unique Software Solution: TRANSVALOR invites all visitors to booth number 207, where they can immerse themselves in the world of digital engineering for hot and cold forming processes. Attendees will have the chance to explore TRANSVALOR's exceptional software solution firsthand, gaining insights into its capabilities and witnessing its potential to increase competitiveness.
Increase Competitiveness with TRANSVALOR: By harnessing the power of TRANSVALOR's software, companies can unlock new levels of competitiveness. The simulation capabilities provided by TRANSVALOR offer a comprehensive understanding of forming processes, enabling businesses to optimize their operations, improve product quality, and reduce costs. This technological advantage can lead to significant gains in efficiency and productivity, giving companies an edge in today's competitive market.
One of the highlights of TRANSVALOR's presence at FORGE FAIR 2023 is the presentation of Nicolas Poulain, titled "Forge NxT 4.0 – The Excellence in Digital Engineering." This session promises to provide valuable insights into the latest advancements in digital engineering and how TRANSVALOR's Forge NxT 4.0 software takes the industry to new heights. Attendees will have the opportunity to witness the power of digital engineering firsthand and understand how it can revolutionize their own operations. Download the program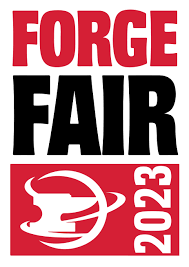 SIMULATION SOFTWARE FOR THE FORGING INDUSTRY
With FORGE®, users can:
close-die forging

open-die forging

long and flat products rolling

shape rolling

ring rolling

orbital forging

cross-wedge rolling




electrical upsetting

cold forming

sheet metal forming

superplastic forming

blanking and cutting

hydroforming

glass forming

machining

heat treatment

bending
visit us at our booth
We are excited to announce our pressence at booth n°207 in Huntington Convention Center (Cleveland - Ohio), where you can learn more about our collaboration and see our latest technologies and solutions.
We look forward to seeing you there to discuss forging processes and to present you FORGE® simulation solution!