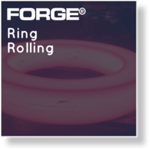 FORGE® Ring Rolling module is specially designed for those who want to simulate ring rolling processes and benefit from the most attractive package to increase their computing power.

Let's double your computing power!
FORGE® Ring Rolling module offers a pool of tokens composed of 'Ring Rolling' and 'Forging' tokens. Your license is made up of a given number of tokens to simulate forging operations and a double of tokens exclusively for ring rolling operations. A unique proposal to speed up your ring rolling simulations!
What's inside?
☑ Hot forging
☑ Warm forging
☑ Cold forming
☑ Closed-die forging
☑ Hammer forging
☑ Bar shearing
☑ Flash trimming
☑ Preforming (reducer rolling, cross wedge rolling)
☑ Flat/Long product rolling
☑ Open-die forging
☑ Ring rolling*
☑ Radial axial ring rolling*
☑ Flow forming*
☑ Heat treatment
☑ Multi-Pass Files
☑ Rigid tooling
☑ Deformable tooling
☑ Die stress analysis (uncoupled approach)
☑ Die stress analysis (fully coupled approach)
☑ Optimization and inverse analysis
☑ Self-coding of user routines
☑ Material database for hot/warm/cold forging
* These processes will use the dedicated 'Ring Rolling tokens
Key Advantages
2D and 3D simulations

Multiple templates for radial rolling (

RW

), radial-axial rolling (RAW) and vertical rolling

Batch manager capability to launch a series of simulations one after the other

Sensor tracking to record fields such as

temperature and

residual stress over the manufacturing chain

Automatic report generator

Ability to work on the best blank design before rolling

High parallel scalability for optimal CPU time

speedup

Dedicated 'analytic rolls' to increase accuracy and reduce

CPU time

Specific mechanical

approach, the

Arbitrary

Lagrangian

Eulerian (ALE) method

Ability to represent grain flow along the manufacturing chain, thanks to our efficient marking grid

technique

Multiple rolling mill driven modes (Ring Growth Speed vs Outer Diameter or Mandrel Speed vs Outer Diameter)



Your benefits
➽ Understanding of heat loss in the ring rolling process
➽ Control of the geometry of the seamless rolled ring, the impact of centering rolls and axial rolls at every moment of the process
➽ Determining forces and torques generated on the rolls
➽ Preventing defects (underfilling, fish-tail, ovalization, eccentricity)
➽ Predicting part properties (deformation ratio, temperature, etc.) and microstructure evolution for aerospace and energy industry grades
➽ Real complex kinematic input 'as on the shop floor' with a dedicated piloting module applicable to SMS Meer, Muraro and Siempelkamp rolling mills

Simulate all steps from furnace to final heat treatment
Prior to the ring rolling stage itself, every forging operation can be modeled including billet transfer from furnace to press, upsetting and piercing.

Subsequent heat treatment operations can also be performed to predict phase transformation, residual stresses and distortions.

At every step of the process, the software performs an accurate prediction of

metal

deformation to anticipate forming issues, control uncertainties on the manufacturing process

and,

in the

end,

ensure high-quality forged

products.
Would you like to receive information about other module offers?