Transvalor is pleased to participate in Made In Steel International Conference & Exhibition in Milan, Italy. The conference will take place from 9 to 11 May 2023 at Fiera Milano Rho (Milan, Italy).
This event brings together professionals and experts from the steel market, including producers, distributors, manufacturers, and end-users, to discuss the latest trends, innovations, and challenges in the industry. More than 17 500 visitors and 300 exhibitors are attending the event.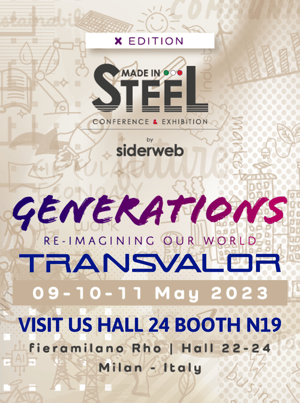 OUR SOLUTIONS designed for the steel production
This conference explores the latest technologies, products, and services related to the steel industry in various sectors like mechanical engineering, construction, and automotive.
Steel manufacturing requires specialized software and tools to manage the production process efficiently. Transvalor provides different solutions software to help industrials in their steel production.
With FORGE®, you will be able to:
Control your manufacturing processes thanks to a better understanding of physical phenomena
Guarantee part feasibility according to a manufacturing process compatible with your means of production
Propose the best costs by anticipating material quantities and the number of steps required to produce the parts
Limit non-quality costs by upstream detection of forging defects
Make rational engineering choices that meet the needs expressed by the customer
Adopt a continuous improvement approach by optimizing existing productions
Meet your customers' forging quality and performance requirements
Capitalize engineering know-how held within the company
THERCAST® is the relevant tool to:
Simulate and optimize the entire continuous casting process, from the initial solidification of the steel to the final cutting of the product

Predict and optimize the process parameters, such as casting speed, cooling rate, and mold design

Identify potential defects and issues that may arise during the continuous casting process to reduce scrap, save costs, and improve product quality

Adjust the process parameters in real time, ensuring the highest product quality and efficiency

simulate and optimize various casting scenarios, including the use of different alloys and the implementation of new process designs
Z-SET® is a suite of software providing:
A

ccurate and high-fidelity material models
A state-of-art Finite Element solver with efficient direct and iterative solvers
Post-processor capabilities, especially for lifetime evaluation
3D crack propagation simulations
MEET US
On site, you will meet our team members in Hall 24 Booth N19 :
Fausto Gill DI VINCENZO,

Executive VP - Sales and Marketing

Max BINAGOT, Technical Product Manager

Nadine EL KOSSEIFI, Technical Account Manager and Marketing Coordinator

Marion LINCK, Marketing Officer
We encourage you to take advantage of this opportunity to connect with us at the Made in Steel event.
Our dedicated team is committed to assisting you with your production challenges and providing accurate solutions that can help you achieve your goals.