OUR NUMERICAL SIMULATION SOLUTIONS IN THE HEART OF AUTOMOTIVE INNOVATION
Transvalor participates in SIA SIMULATION NUMERIQUE which will take place on April 5th and 6th at the Gustave Eiffel University in Paris.
This event is specifically dedicated to digital simulation innovations for the automotive industry. It aims to present the new needs and challenges of the automotive industry including:
Accelerating the design phases of the innovative new vehicles
Reinforcing validation proces

ses using physical tools and digital twi

ns
Integrating the product user experience using virtual reality methods

Transvalor's software solutions meet the needs of the automotive industry, particularly for the design of engine, transmission and chassis parts, but also for interior and comfort parts.
→ FORGE®, COLDFORM®, THERCAST®, SIMHEAT®, TRANSWELD®, REM3D®, and Z-SET® allow to anticipate the presence of defects, study forging sequence, optimize the casting of aluminum alloy parts, obtain accurate welding results, and simulate injection and chemical foaming processes for thermoplastics.
Transvalor's simulation software contributes to the transition of the automotive industry:
By accelerating the design phases,
By improving reliability and production quality,
By strengthening validation processes and creating a digital twin.
Do not miss this occasion to join us at Booth 11.
You will meet the members of our team:
Stéphane ANDRIETTI, Director of Strategic and Technological Partnerships
Christine CORSINI, Sales Manager
Daniel DELMA,

Level 1 Support Service Manager
Don't miss this opportunity, book an appointment to ask all your questions about digital simulation for the automotive production and thus optimize your manufacturing processes.
published paper
On April 6th, Stéphane ANDRIETTI will present a technical paper entitled "Increasing die life in automotive forging applications through predictive wear modeling and GNN surrogates". Here is the abstract:
"Like many other sectors, the automotive industry looks for continuous savings related to the manufacturing processes. Hence, digital manufacturing becomes essential in the development of high-value metal cast or forged components. Simulation software helps process engineers in crucial aspects like the extension of die (or tooling) lifetime. Die replacement often happens due to excessive wear leading to forged parts out of dimensional specifications.
This work presents generalized wear models integrated into FORGE® FEM simulation software, which help to elaborate optimized die designs and therefore guarantee an extended lifespan. The case study of a steel forged yoke will be discussed.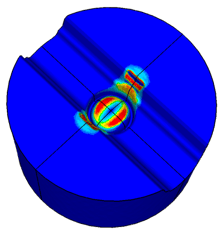 As the classic 3D FEM resolution can be CPU time consuming, a new Graph Neural Network (GNN) based surrogate model has been used to replicate the wear prediction as a surface field on the dies for a given set of initial input conditions. This method tends to be very effective. As it significantly reduces the response time compared to FEM modeling, then it allows to easily anticipate a preventive die maintenance plan".
Abrasive wear calculated on forging die
Discover our solutions for the automotive industry