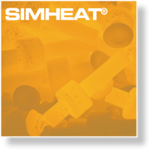 SIMHEAT® is devoted to simulating heat treatment processes of metallic alloys including carbon steels, titanium and aluminum alloys. It is designed for process engineers and metallurgists who aim at reaching ultimate engineering requirements by predicting final in-use properties and by controlling microstructural evolutions.
What's inside?
☑ Heating
☑ Austenitization
☑ Quenching
☑ Spray quenching
☑ Tempering
☑ Annealing
☑ Carburizing
☑ Nitriding
☑ Carbonitriding
☑ Induction heat treating
☑ Quenching of aluminum
☑ Artificial aging of aluminum
☑ TTT & CCT diagram generator
☑ Optimization and inverse analysis
☑ Self-coding of user routines
☑ Material data base
Key Advantages
2D and 3D simulations

User-friendly interface with dedicated templates for heat treatment applications

Ability to model the entire heat treatment cycle as a one continuous process

Batch manager capability to launch a series of simulations one after the other

Polymorphic transformation modeling of carbon steels

Sensor tracking to record fields such as temperature, hardness, and residual stress over the heat treatment

Automatic report generator

Fully-parallelized anisotropic

mesh generator

Generation of Kirkaldy-based TTT diagrams for low alloy steel grades

Import of a tailored CCT diagrams in text format and conversion to TTT

Automatic shift of the CCT diagram according to the carbon rate

Full compatibility with JMatPro® material software

High parallel scalability for optimal CPU time speedup

Age hardening based on Shercliff-Ashby models for aluminum alloys

Distortion models applicable to all kinds of metals including aeronautic alloys

Integrated optimization module for HTC identification by inverse analysis
Your benefits
➽ Use of powerful solvers for a wide range of coupled resolutions (mechanical, thermal, metallurgical and electromagnetic).
➽ Master product quality and properties by prediction for oxide layers, temperatures, residual stresses, distortions, local hardness (HV, HRC) and phase transformation.
➽ Improve your profitability by determining the optimum heating duration for the furnace.
➽ Access a rich quenchant database is available, including sixty-three Quaker Houghton quenchants. The integrated optimization module can find the most relevant values of heat transfer coefficients to fit experimental cooling curves.
➽ Avoid cracks from residual stress or too much distortion that can be due to cooling.
➽ Study carbon and nitrogen penetration depth during carburizing or nitriding.
➽ Optimize current intensity/frequency in induction heat treating to get expected surface hardness and core ductility.
➽ Exploit a full range of induction heat treating results: temperature, heat affected zone, induced magnetic field, heating time, surface hardness, and core impact resistance.
Would you like to receive information about other module offers?