Simulation of induction heating with SIMHEAT®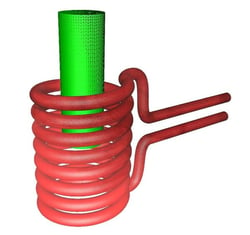 Heating by induction can be analyzed with SIMHEAT® simulation software. This allows determining the optimal process parameters (for example frequency, operation time), as well as the accurate temperature distribution in the initial billet, the equivalent strain distribution (especially in the head and tail of the billet) due to temperature gradient more.
Temperature distribution in 3 standard steel billets headed into a 46 tum coil-box considered is a single turn coil.
Benefits of Predictive simulation
SIMHEAT® allows the prediction of:
The temperature distribution in the billet from surface to core
The deformation of the billet due to the temperature gradient (particularly at the two ends of the billet)

Areas where phase transformations occur

Prediction of heat affected zone and metallurgical transformations to identify austenized areas prior to quenching

Current frequency, coil geometry and even concentrators' location within the heat affected zone

Electrical and magnetic properties that are temperature-dependent
Induction heat treating of a crankshaft
features of SIMHEAT® for induction heating
Multi-physics approach to capture 'mechanical-electromagnetic-metallurgical' phenomena.

Genuine electro-magnetism resolution predicting finely the heating distribution.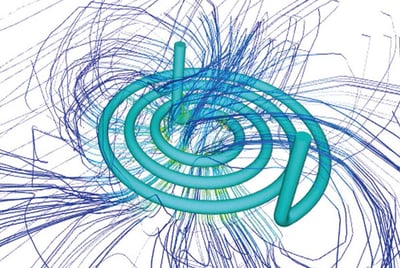 Magnetic fields during induction heating
Innovative, dedicated and easy-to-use meshing technology for multi body electro-magnetism resolution.
Local mesh adaptation based on the temperature penetration depth.
Both static and dynamic induction heating with relative movements between the component and the inductor is handled.
Up-to-date modeling of the generators that adjusts current intensity and frequency to maintain prescribed nominal power values.
Austenitization as well as grain growth can be considered during the heating phase.
With a unique software, induction heating of the initial billet or component as well as forming operations can be simulated.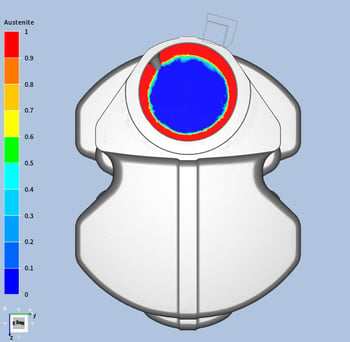 Austenite during induction heating
Case study - VALIDATE THE INDUCTION HARDENING SIMULATION PROCESS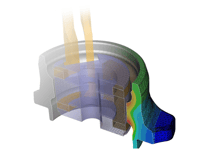 NTN-SNR uses the FORGE® software (which includes the SIMHEAT® module) to simulate the induction hardening process used in manufacturing bearing rings.