After the success of our French Tech Day organized in Paris in 2018 and after our Transvalor International Simulation Days 2019, we organized our Tech Day France held at the Arts et Métiers campus in Metz.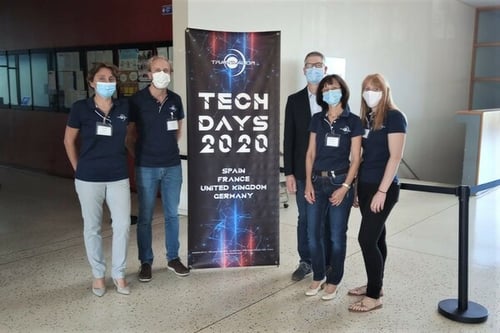 Tech Day France - September 2020 in Metz
Organized on the Arts et Métiers campus in Metz
This Tech Day France was organized on the Arts et Métiers Campus in Metz. This school offers various courses around industrial and research activities related to the forge and foundry sectors, and in particular dual skills courses with the Superior School of Foundry and Forge (ESFF) and the Superior School of Welding and its Applications (ESSA).
Their subsidiary AMVALOR aims to enhance and promote research activities carried out in partnership with manufacturers and laboratories. They use our FORGE® solution in this context.
This Tech Day was the opportunity for the participants to visit the Vulcan platform and assist to demonstrations. This platform constitutes a technological research center for companies in the forging sector.
Tech Days 2020 - simulation of material forming processes
Transvalor Tech Days were organized in four European countries: Spain, France, United Kingdom and Germany. These one-day events targeted our industrial and academic users who want to know the latest features of our software and those under development. The presentations also helped to understand how to meet the main challenges of industries: cost reduction, quality improvement, innovation, etc.
More specifically, the Tech Days tackled themes related to the forging and foundry processes, respectively honored by our FORGE® and THERCAST® simulation software.