What is gravity die casting?
Gravity die casting is a casting process that involves filling a metal shell (a mold) with molten metal by the force of gravity alone.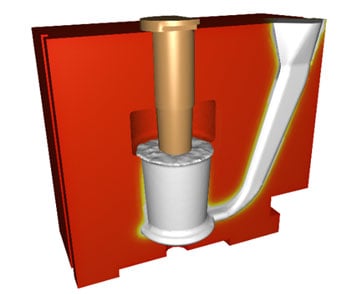 Gravity die casting with temperature change in the mold
The die cavity must first be coated to better control the process and the quality of the part (removal, mold protection, balanced cooling, etc.). A sand or metal core and pins can be added to achieve more or less complex interior shapes.
The liquid metal is poured through the descent channels to fill the cavity. During solidification, the metal contracts and this phenomenon must be anticipated by supplying metal via a riser. The riser system thus avoids defects such as contraction cavities.
Benefits of gravity die casting
Gravity die casting is ideal for high-volume production since it can be used in a casting cluster and allows constant production through mold reuse (this is referred to as a permanent mold). Thus, this process is often used in the automotive industry to produce structural, engine and mechanical parts.
Gravity die casting is also recognized for its high degree of precision: it can be used to mold very thin parts with complex shapes.
Compared to sand casting, metal dies cool faster, allowing more efficient mechanical characteristics to be obtained.
The process is mainly used for the manufacture of aluminum alloy parts since the melting temperatures are relatively low and cause less tool damage. It is also used for parts made from zinc or copper alloys.
Predictive simulation of gravity die casting
Simulation is used by founders to improve the quality of molded parts, reduce the prototyping phase and therefore increase their productivity.
THERCAST®, our casting simulation software, has a template dedicated to the Gravity Die Casting process. It allows you to generate precise and predictive models of your process parameters:
Mold design and definition of vents, inserts, channels, riser system, etc.
Definition of process elements: materials, mold temperature, filling speed, cycle time, etc.
Integration of

coating and blow molding phases

, exothermic powder, foundry filters, etc. More info

Monitoring changes in metal front and turbulent flows

Visualization of the kinematics for each mold element, for configurations with cycling
Changes in thermal exchanges between the mold and the part, but also between the cores and the part following the successive openings and closings of the parts of the mold
Detection of the appearance of defects: cracks, hot tears, inclusions, primary and secondary shrinkages, air spaces, porosities, air gaps, incomplete die filling, ghosts
Metallurgical analysis of the part: micro and macro-segregations, phase transformations, grain growth and orientation
Key Features of THERCAST® for gravity die casting
Interface dedicated to casting processes with specific Gravity Die Casting template

Bear kinematics

Choice of materials for each element

Definition of filling speeds, mold temperature, metal temperature

Coupling of fluid mechanics and solid mechanics to take into account the influence of physics

Advanced die creator, to generate the mold from the geometry of the part

Materials database with user-defined grade creation space

Automatic generation of TTT (time-temperature-transformation) and CCT (continuous cooling transformation) diagrams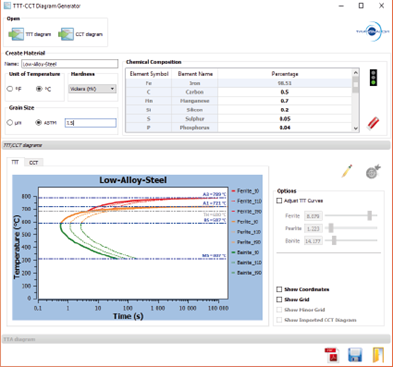 Model for tracking inclusions throughout the process and dedicated data setup page. More information

THERCAST® results can be exported to other calculation or finite element software packages

Perfect interoperability with FORGE® software dedicated to the simulation of forging processes, in order to simulate the industrial process as a whole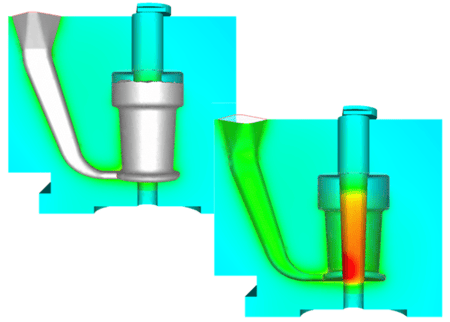 Temperature changes during gravity die casting