Every two years, Transvalor organizes the Transvalor International Simulation Days, three days of conferences, networking and exhibition organized around a main theme: material forming simulation.
See you in 2021 for the 3rd edition
of the Transvalor International Simulation Days !
More than 140 participants and 42 presentations
After the success of the first edition of Transvalor International Simulation Days in 2017, we launched the second edition of this event intended for industralists and academics in the field of simulation of material forming processes.
The event, organized at Beachcomber French Riviera Resort & Spa **** (Sophia Antipolis, France) from October 15 to 17, 2019, brought together more than 140 participants, including some of our customers, academic, technological and research partners as well as as our network of global distributors.
Their goal was to learn and share their knowledge on the latest technologies, industrial innovations and research projects related to process simulation (forging, foundry, welding, heat treatment, microstructural evolution, plastics injection).
The 42 presentations made by Transvalor customers, partners or Transvalor teams were very successful.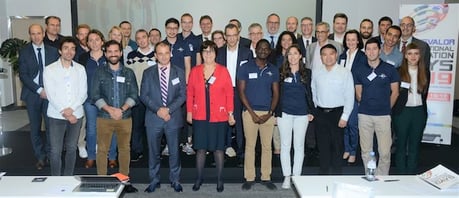 The opportunity to know the future of Transvalor
Concerning Transvalor presentations, the latest features of our software have been unveiled whether forging, foundry, welding, plastic injection or microstructural evolution.
Our Managing Director has also presented the development strategy for the coming years. Emphasis has been placed on the interoperability of our software and on the modularization of our offer, which will allow users to have access to "features on demand".
Winners of the Best Presentation Awards
Participants were invited to vote for the best presentations. Each day, a customer presentation and a Transvalor presentation were elected. The winners are:
Spaces for networking
This event was also an opportunity to connect specialists from different sectors and to create potential links between industrial companies and / or research laboratories.
Another novelty for this second edition: Transvalor has set up Speed Meetings to facilitate exchanges between its experts and participants. These sessions made it possible to approach in one-to-one meetings, specific topics such as metallurgy, advanced shaping processes, consulting projects, or technical support, sales ...
Good benefits for exhibitors
5 exhibitors (Sente Software, Datadvance, Quaker Houghton, AFRC and UberCloud) were also able to present their offer in synergy with the activities of Transvalor and, allowing them to reap fruitful exchanges and likely positive commercial benefits.