June 3rd, 2021 - 02:30-03:15 PM CET (Paris Time)
Speaker: Nadine EL KOSSEIFI, COLDFORM® Product Manager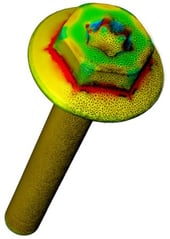 On the engineering side, designing and manufacturing the right fastening solution may turn into deep challenges among which are:
Cost, performance, weight of end product
Assembly techniques: rivet/bolt/screw versus welding
Impact of the joining technique on the design phase
The fastening solution must address high level functions such as durability, weather tightness, aesthetics and structural performance.
In this webinar, we will demonstrate how COLDFORM® can help optimize the production and control the entire manufacturing process: forming sequence, thread rolling, piercing/punching, heat treatment and mechanical joining.
Several case studies will be presented and we will show you how to:
Predict grain flow
Detect defects prior to production
Improve die life by performing die stress analysis
Model pre-drawn wire
Furthermore, application cases will introduce the benefits of automatic optimization applied to fasteners and typical examples will be addressed such as: what is the optimum screw head shape to guarantee the best in-use performance?
Public: Engineering managers, Innovation managers, Quality managers, Manufacturing engineers, Forging & Tooling designers, Process simulation engineers, Research fellows, Academics, PhD or MSc students
Keywords: Fasteners, cold forming, mechanical joining, extrusion, piercing, riveting, manufacturing process, die analysis, numerical simulation, material science, mechanical engineering
COLDFORM® is a finite element analysis software dedicated to the simulation of cold forming processes.