June 24th, 2021 - 02:30-03:15 PM CET (Paris Time)
Speakers: Nadine EL KOSSEIFI & Max BINAGOT, SIMHEAT® Product Managers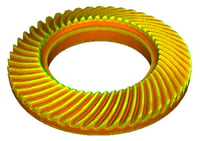 Numerical simulation is a powerful tool for engineering staff and metallurgists wishing to improve heat treatment processes, in order to be as predictive as possible on the final in-use properties of metal parts obtained either by forging or casting, machining or even welding assembly.
SIMHEAT® is a simulation software dedicated to heat treatment processes applied either in the volume or on the surface. It can be used to model heat treatments of a large variety of materials such as low alloy steel, stainless steel, aluminum, or titanium. It is an effective solution to predict phase transformations, product's hardness, tensile strength and to obtain residual stresses and microstructure evolution during and after heat treatment.
In this webinar, several new features and improvements will be introduced:
A fully renewed hardness evolution model for tempering simulation
Major progresses for the electromagnetic module with application to induction hardening
Key engineering aspects for heat treatment of aluminum alloys aiming at predicting final mechanical properties of forged or cast components
Advancements related to the nitriding modeling
Our purpose will be illustrated with a case study of induction hardening followed by a quenching applied to C56 steel bearing rings.
Public: Heat treatment engineers, Engineering managers, Innovation managers, Quality managers, Manufacturing engineers, Process simulation engineers, Research fellows, Academics, PhD or MSc students.
Keywords: Heat treatment, induction heating, quenching, carburizing, nitriding, tempering, residual stress, distortions, temperature, aluminum, manufacturing process, numerical simulation, material science, mechanical engineering.
SIMHEAT® is the effective solution to simulate heat treatment processes of metallic alloy and obtain true insights of workpiece distortion, residual stress and microstructural evolution.