We are happy to announce the delivery of the version FORGE® NxT 3.1. New functionalities, improvement of existing functionalities and a better ergonomics, discover the essentials of FORGE® NxT 3.1.
An even more efficient and intuitive graphical interface
Our GUI team has developed new clever functionalities that will accompany you on a daily basis and accelerate your routine tasks. All these functionalities have been designed to make your work easier and more comfortable, bringing you a better and personalized experienced.
Integration of a contextual menu

accessible by right-clicking. Read more


Benefits

: Quicker access to functionnalities available in the interface and to object parameters. Menu customization possible for an increased productivity.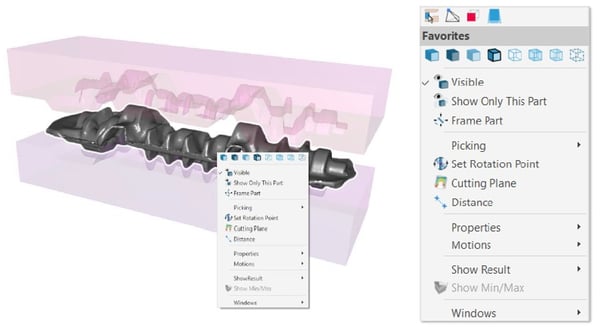 Integration of Drag and Drop make the import of your files easier. Read more
Benefits

: Easily load files into the interface from your disk (geometries, results, complete project, simulations…). Simply replace an existing geometry.
N

ew keyboar

d shortcuts. Read more


Benefits

: Speed up your workflow and now perform your everyday actions thanks to new combinations.


N

ew fast and automatic recording options.




Benefits

: Save your work faster and more easily.



Customizing mouse actions

to perform navigation actions.




Benefits

: Gain comfort by configuring your mouse buttons yourself.



Setup of your favorites

among the simulation models and the elements of the database.




Benefits

: More personalized search and selection.


Improvement of loading time

when loading projects and results in the interface.




Benefits

: Reduced loading times and improved stability.



Correction of functionnalities

which can lead to unstable behavior, reported by our users.




Benefits:

Better fluidity and stability of the interface.
More and better features for data setup and results analysis
Manipulation on multiple objects at once (rotation, cutting, shifting etc.).
Benefits: Faster data setup, more efficient.



Visualization and definition of mesh boxes

simplified.




Benefits

: Activate only the boxes you want to display for a more comfortable definition.



Improvement of the mesh parameters

with the addition of a new generation of options and verification tools.




Benefits

: Improved quality of the meshes.



Integration of Custom Actions

applicable with a single click (scalar, scale, filter, cutting plane...).




Benefits

: Personalization of the display of results for a more precise and quick analysis.

Improved performance in reading results.




Benefits

: Better fluidity and navigation.



More control given to users for the application configuration.




Benefits

: Advances customization of your interface for a use that suits you.



Synchronized animations and reduction of generating time.




Benefits

: Better fluidity and navigation.
New functionalities related to your business
Consideration of phosphate coating of parts

to facilitate the forming.




Benefits

: Easily define the areas treated on your parts.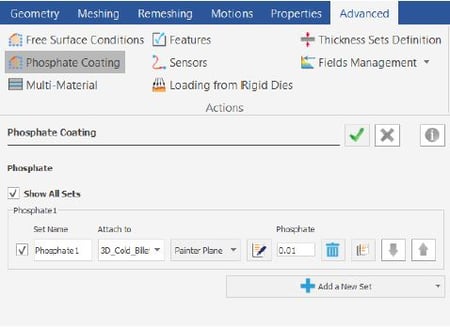 New quenchants

among Aqua-Quench® and Houghto-Quench® ranges from Quaker-Houghton available in the database.


Benefits

: Simulations more predictive.



Creation of new simulation templates

for the processes of

flow forming/spinning

and for heat treatment of aluminum.


Benefits

: Simulation models panel richer.



Improvement of computation times

for induction and flow forming processes.




Benefits

: Reduction of CPU times.
If you would like to have more information on the content of this version, we invite you to read the Product Overview, from FORGE® NxT 3.1