What is low pressure die casting?
Low Pressure Die Casting (LPDC), is a casting process that involves filling a permanent mold under low pressure. The molten metal is injected from the bottom of the mold using a pressurized furnace generating a neutral gas whose pressure is slightly higher than atmospheric pressure (maximum 1 bar). As a result, the metal rises vertically and slowly through a ceramic tube into the cavity.
Before casting, in the case of permanent casting molds, the cavity can be lined with coating to protect the tooling and promote the quality of the final part. A core or pins can be added inside to make internal shapes.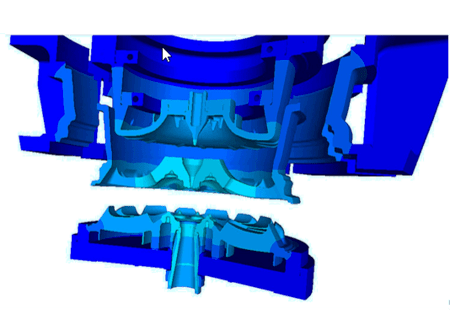 Low pressure die casting for the manufacture of a wheel rim - THERCAST® simulation
Advantages of low pressure die casting
The low pressure generated by the gas causes the metal to flow slowly and evenly throughout the cavity. This process is thus suitable for parts with complex geometry and thin walls. It is more precise than pressure die casting.
Compared to other casting processes, such as gravity die casting, it guarantees a higher level of quality. As the air escapes gradually through the top of the mold, allowing the cavity to fill gradually, the risks of porosity and inclusions are reduced.
Low pressure die casting is mainly applied to the production of aluminum parts. It is commonly used to manufacture bulky parts such as steering parts or suspension arms and wheel rims for the automotive industry, structural parts for the aircraft industry, etc.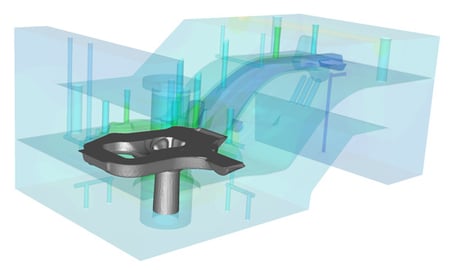 Metal flow during filling
Predictive simulation of low pressure die casting
THERCAST®, simulation software for casting processes, allows precise and predictive analysis of the low-pressure die casting process.
Configuration of all process parameters: geometries of process elements, materials, initial mold temperature, pressure, heat exchange zone, etc.
Modeling of all process phases: coating, bath pressurization, lift into the mold and holding, part ejection
Visualization of metal shrinkage during solidification
Defect prediction: primary and secondary shrinkage cavities, inclusions, hot tears, cracks, short runs and misruns, etc.
Tooling analysis, mold temperature and deformation, thermal cycling, mold opening
Integration of external elements: impact of sleeves with or without exothermic reaction and casting filters
Metallurgical changes: distribution of solid phases, grain growth and orientation, micro and macro-segregations
Cycle time optimization according to part design
Ingate optimization
Unique features of THERCAST® for low pressure die casting
Low pressure die casting-specific simulation template
Coupling of fluid mechanics and solid mechanics throughout the calculation
Launch of a complete thermomechanical analysis for high accuracy of results
Complete metallurgical analysis
Materials database and dedicated creation space
Configuration of TTT (time-temperature-transformation) diagrams

Inclusion monitoring throughout the process. More information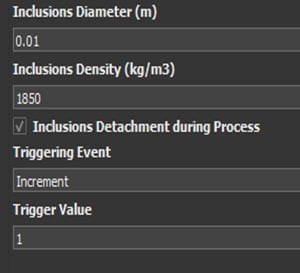 Thermomechanical resolution coupled with the part and the mold to anticipate mold deformation and the possible rupture of the sand cores
THERCAST® results can be exported to other calculation or finite element software packages
Perfect interoperability with SIMHEAT® software which simulates the heat treatment of post-foundry parts.
Need more information?