What is laser beam welding?
This method is used to join several metal parts thanks to a laser beam inducing a very high energy density.
Laser beam welding is a very widespread process which contributes to the manufacturing of parts for various industries such as automotive and aeronautics (seats, running gears, heat exchangers, etc.), but also the medical sector (prostheses, orthopaedic implants).
Quick to perform, it combines high welding speeds (several meters per minute) with low metallurgical degradation. This high energy density process creates a melted zone that is both deep and very narrow. It thus allows the single-pass welding of a relatively thick piece, while inducing little deformation.

Laser beam welding allows the assembly of various metallic materials: the list extends from steels to aluminum alloys, titanium, ferrous alloys, nickel-based alloys, copper, etc.

It also has the advantage of being easily implemented with automated and robotic machines, improving its reproducibility and productivity.
Model the laser beam welding with TRANSWELD® software
TRANSWELD®, our software devoted to welding processes, allowing for modeling the laser welding process in continuous mode.
TRANSWELD® can anticipate its impact on the welded joints of the assembly through the study of the thermally affected zones or by previewing residual stresses. Defects caused by the laser welding such as hot and cold cracks or fracture risks, can easily be highlighted.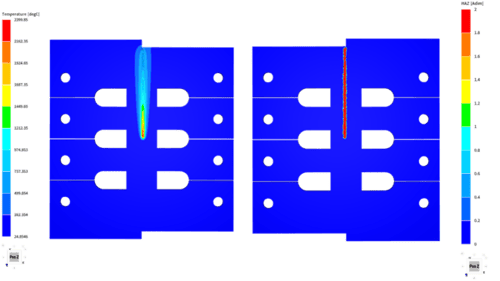 Simulation with heat distribution (left) and HAZ evolution (right)
The technology offered by TRANSWELD® enables an accurate analysis of your process on a local scale and provides access to a wide material database in order to model your laser welding process.

With TRANSWELD®, you can quickly determine your welding parameters while reducing prototyping costs. Indeed, access to a dedicated interface that makes it possible to configure the power and the trajectory of your laser beam. In order to accurately simulate your process, the software takes into account user-defined clamp system and can model the passes accumulation.


Benefits of predictive simulation
TRANSWELD® can predict:
Throughout the process, changes in metal solidification, including shrinkage during solidification
The solid-state metallurgical transformations induced by the welding operation, in particular those present in the HAZ
In welded joints, the residual stresses along with the resulting assembly distortions
The penetration of the molten zone as well as any lack of fusion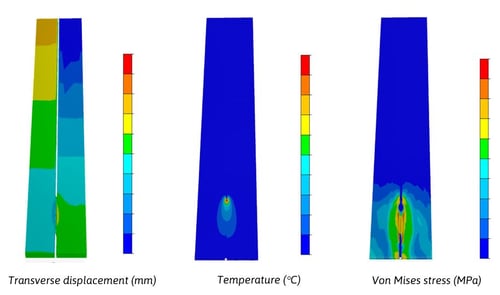 Strengths of TRANSWELD® for laser beam welding
Data setup based on process parameters such as power and energy efficiency, speed, width of the fusion line, etc.
A tool dedicated to organizing the welding sequence, including the management of available sources, clamps and inter-pass conditions.

Several coupling possibilities of physical phenomena (Thermal alone, Thermal and Metallurgy, Thermal and Metallurgy and Mechanical resolution) so as to balance computation time and type of result sought.

An automatic remeshing technology allowing for an adaptation to the high gradient regions in order to improve the precision of the results by maintaining a reduced computation time.
A complete welding solution allowing for preheating, post-heating and even thermal treatment of your welded assembly.