Did you know that it is possible to configure foundry filters in THERCAST®?
WHAT IS A FOUNDRY FILTER?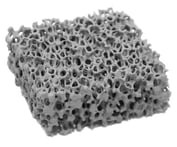 Foundry filters are generally ceramic foam blocks placed in the pouring bush. Their pores serve to "filter" the flow of the metal, i.e. to limit turbulent flow and to eliminate undesirable particles from the molten metal before it flows into the cavity.
There are various types of filters such as foam filters, extruded cellular filters, pressed cellular filters and mesh filters. They can be used with many types of cast products and significantly improve the quality of the end product:
Fewer defects (rejects, etc.)
Reduced repair costs
Improved machinability
Improved mechanical properties
To accurately simulate your process and model the mechanical effect of the filter, this latter can be easily configured in THERCAST® so that it is taken into account in the calculation.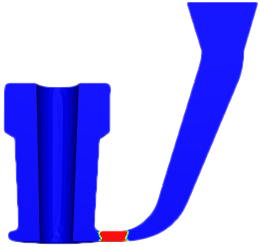 Filter position in red
HOW TO CONFIGURE A FOUNDRY FILTER ON THERCAST®?
THERCAST® allows you to position and configure foundry filters in your casting simulation, to define their shape and the model for pressure/speed control. To use the filter feature, you must add the "Filter" object from the Object Store.
Select the "Geometry" tab
Click on "Add new group" and select "Box"
Define the size and position of the "Box"
The box defining the location of the filter appears
You can then define the filter properties
You can also view the position and permeability value of the filter using the "Permeability" scalar.
Filling simulation performed at the same time without filter (left) and with filter (right)